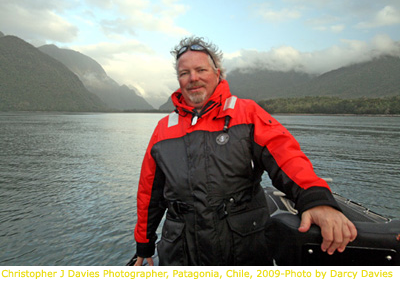 Christopher Davies has over 35 years of experience as a professional photographer. In 1976, he received a full scholarship to attend the New York School of Film and Media at SUNY Buffalo. In 1977, he received a full scholarship to attend the School of Visual Arts in New York City.

Mentors include photographers Joseph Szabo, Peter Laytin, and Peter B Kaplan. From 1977 to 1980, Davies freelanced documenting Rock and Roll performers for Concerts East and The Calderone Theatre on Long Island.

In 1981, Davies embarked on an 18-year marketing career in the Photographic Industry for purposes of financial prosperity. He held senior management positions for industry leaders such as GMI Photographic (Bronica), Satter Distributing, and The Charles Beseler Company. Davies also co-founded Challenger Photo Marketing, the early US agent for Billingham Camera Bags, Paterson/Phillips Enlargers, and Widelux Cameras.
In 1997, Davies joined Petersen Photographic Magazine as Sales Manager, covering advertising sales to Nikon, Kodak, Minolta, and Tamron. This industry contact with some of the world's most talented photographers inspired him to jump-start his professional photography activities.

Peter Layton and Minor White influenced Davies early work. Davies has experimented and developed special lighting and filtration techniques yielding interesting results as a fellow devotee of Kodak Black & White Infrared Film (yes, film! Remember those days?). In the 1990s this sparked the attention of Eastman Kodak's professional film marketing department, which sponsored Davies by providing free "brick's" of this expensive film. Some of his most notable works include documentaries of the Golden Gate Bridge and Taos, New Mexico.

In 2002, Davies and his wife Darcy launched Wine Country Network, the publisher of Wine Country International ®, a glossy print magazine focused on wine, food, and travel. As Editor and Publisher, Davies shoots major cover assignments for the magazine. His celebrity profiles have included A&E's Bill Curtis, Super Star Chef Daniel Boulud, and NASCAR team owner Richard Childress. Today, Wine Country International is published quarterly online, with more than 500,000 monthly readers. The publication is also available on-demand as a printed magazine.

In 2008, Davies won the assignment from Westfield Development to document the construction of 1800 Larimer St, Denver. The building is the first LEED-CS Platinum Pre-Certified High Rise West of the Mississippi. He produced more than 5,000 photographs of the construction. This 2-year documentary concluded in July 2010.


Davies covers freelance photojournalistic and architectural assignments in the US and Europe when he is not traveling the world for Wine Country International.

Davies continues as chief photographer for Wine Country International magazine. He also covers assignments for numerous corporate clients like Guidepost Publishing, Scholastic, and a host of Colorado-based restaurants and wine industry clients. Now that things are improving post-Covid-19, he has resumed a busy travel schedule. As a long-time General Member of ASMP, Davies is eager to accept challenging assignments for select clients.